Due to the recent stricter CoVid measures implemented by the Federal Governments of Austria and Germany we are unfortunately forced to re-work our event concept.
We preparing something special for you and keep you posted here.

Stay healthy & stay connected!
Experience know-how live*
Network with professionals in online. Keep your finger on the pulse as regards technological developments and industry trends.
We kindly invite you to the Leistritz industry event!**
Come and benefit from top-class lectures. Among other things, we will take a look at the compounding of thermoplastics and glass fiber reinforced polyamides. You will learn more about wet compounding of ABS. You will also get to know more on the use of smart sensor technology and how it can optimize process engineering and plastics processing.
The highlight: In addition to practical demonstrations in Linz, we will switch live to machine demonstrations in our technical center in Nuremberg.
* Unfortunately, we are compelled to cancel the live event.
**Only for registered professional visitors.
In the spotlight:

Compounding 4.0 – classic compounding applications fit for Industry 4.0
November 3 & 4, 2020
Live from Johannes Kepler University, Linz/Austria
Open Innovation Center
We offer you access to the Compounding Workshop 1:1 per live stream. You can take part comfortably from a distance at home or at the office. Workshop contents will be accessible and password protected.
Unbiased presentations from international experts
Future technology trends and developments in the plastics industry
Plastics technology and Industry 4.0
Compounding processes for thermoplastics and glass fiber reinforced polyamides
Wet compounding of ABS copolymers
Melt quality and process reliability
Smart sensors for process engineering and plastics processing
Rheology: basics and applications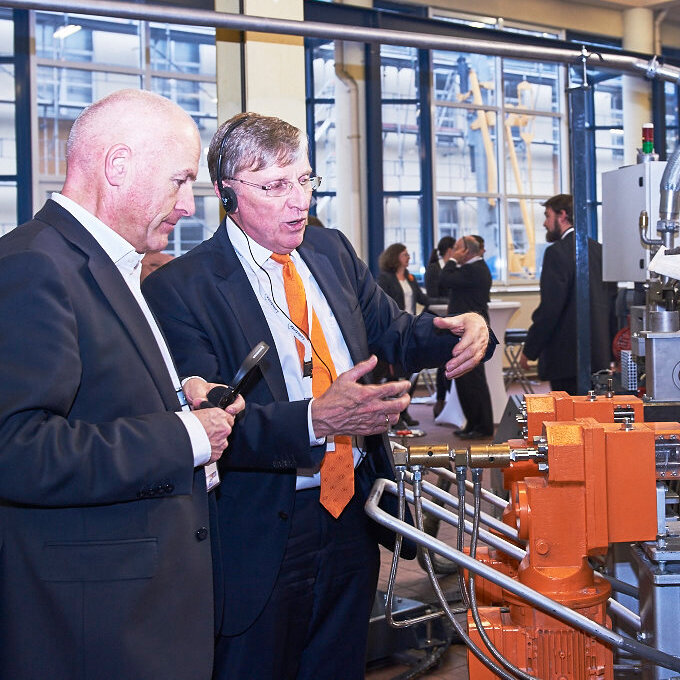 Practical demonstrations in the Open Innovation Center and lab
New developments in extrusion technology
Elongational rheometer technology
New human machine interface technology
Come, join us and benefit from precious theoretical and practical expert know-how.
Take part online from your home or office.
Impressions from our last workshops